This is a big deal! What am I talking about? You will find out soon. Let's dig a bit deeper into it. For the first time in the history of cryptocurrency and blockchain technology, we have a technology that grants complete ownership of unique digital goods. See, I told you, it is a big deal. In our digitizing society, it becomes difficult to grasp the right of bits spread across the ocean of cryptocurrency and blockchain. The concept of uniqueness, identity, and ownership of assets is awarded to us, and Cryptocurrency Exchange Script can help you snatch this award. To date, blockchains have proffered us the capability of constructing scare digital assets, where ownership is taken care of by a decentralized network of miners. Still, most of them are "fungible." Let's take a look at a new classification of Digital tokens: Non-fungible tokens. 
A New Class Of Digital Tokens- Non-fungible Tokens 
Fungible Tokens

are a kind of cryptographic tokens that are similar in feature and functionality. Any two fungible tokens can serve the common purpose even when divided or exchanged with other fungible tokens of the same type.

Example: Dollar, bitcoin, Ethereum, etc.
Non-Fungible Tokens

are cryptographic tokens, unique and not so similar to any other non-fungible tokens. Every NFT represents a different kind of feature and functionality and is not comparable to other NFT's. NFT's are the tokens reflecting digital art, house/ property, precious metals, and gems like diamonds.

Example: CryptoKitties, Art, House, Property.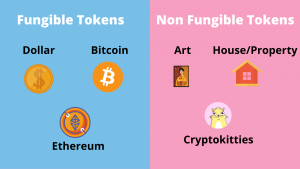 Blockchain-based Non-fungible Tokens 
We always had non-fungible tokens around us, even before the emergence of cryptocurrencies. Since the dawn of the internet, we have always been surrounded by NFT like domain names, event tickets, in-game items, and much more. Now, you must be preoccupied with the thought that if we have such NFT's, why bother about owning these digital things? 
If digital ownership means that an item belongs only to you and not someone else, then that makes sense. But digital ownership is much more like ownership in the physical world. Instead, you own these digital assets in a specific context, which may or may not be moving around in the physical world. 
That's when blockchain makes its heroic entry! Blockchain proffers a coordinated layer for digital assets, offering users ownership and management permission. Blockchains annex several other unique properties to non-fungible assets that take the user's and developers' relationship to another level with these assets. 
Features Of NFTs 
NFT standards permit non-fungible tokens to shift across multiple ecosystems without a hitch. When an NFT project is launched, they are entirely and solely visible in a bundle of different wallet providers, tradable on marketplaces, and majorly in the virtual world. All of this is possible and scalable because open standards offer a straightforward, consistent, reliable, and permissioned API for reading and writing data. 
It is one of the appealing features that attracts a huge crowd. For the very first time, users have the liberty to stir their assets outside the environment and into a marketplace, where they can grab all the opportunities of high-tech trading capabilities. Especially for game developers, tradability of assets represents a transaction shifting from a closed ecosystem to a free ecosystem. They are no longer liable for taking care of every bit of the economy. Instead, they can let free markets do the laborious task. 
Instant trading will facilitate a new path that will lead to higher liquidity. Everyone from hardcore traders to more novice players can grab the various opportunities offered by NFT. It will give new exposure to the assets to a wider pool of buyers. 
Developers places a hard cap on the supply of non-fungible tokens and enforces constant features that cannot changes after the NFTs are issued. 
Like any other traditional digital assets, NFT's are entirely programmable. Many of the NFT's have more complex mechanisms, like forging, crafting, redeeming, random generation, and much more. The design part has an ocean full of possibilities and opportunities. 
Standards Of NFTs 
ERC721 is a standard that represents non-fungible assets. It has an inheritable solidity smart contract standard, meaning developers can easily create new ERC721-compliant contracts by importing them from the OpenZeppelin library. ERC721 is relatively simple: it also provides a mapping of unique identifiers (each of which represents a single asset) to addresses, representing the owner of that identifier.
ERC1155 brings the idea of semi-fungibility to the NFT world. With ERC1155, IDs represent not single assets but classes of assets. For example, an ID might represent "swords," and a wallet could own 1,000 of these swords. In this case, the balance of method would return the number of swords owned by a wallet, and a user can transfer any number of these swords by calling transfer from with the "sword" ID.
While Ethereum is where most of the action is currently happening, several other NFT standards emerge on other chains. DGoods, pioneered by the Mythical Games team, is focused on providing a feature-rich cross-chain standard starting with EOS. The Cosmos project is also developing an NFT module that can be leveraged as part of the Cosmos SDK.
Myths About NFT
Scarcity alone drives demand

Smart contract means assets will last forever

Abstracting the chain away will solve all the problems
How To Create Non Fungible Tokens?
The emergence of Defi brought many revolutionary changes. Non-Fungible Tokens are one such kind of revolutionary change that we are witnessing. Various sectors like real estate, entertainment, media, art, gaming, and others are embracing NFTs. With the increase in users of games based on blockchain, its presence has felt. Now, until the gaming industry prospers, the NFTs will also grow at a similar pace. 
Get in touch with Cryptocurrency Exchange Script– a leading player in the field of blockchain technology. It holds experience and expertise in the development of Defi and Token. We also, develop such blockchain solutions that can put together in the games at ease. We can help you embrace the power of the digital world, fueled up by Non-fungible tokens.