The crypto market currently has a market capitalization exceeding US$1.18 trillion, according to statistics from Coinmarketcap.com. While this is nowhere near the 2021 boom, the figure is still remarkable, given the market surged in a short time, signing the arrival of cryptos into mainstream adoption. But how can cryptocurrency reach common users? Cryptocurrency exchanges like Coinbase have been performing a commendable job in onboarding crypto enthusiasts into Web3. You know what! Even you can run a similar business using our Coinbase clone, which we will discuss in this blog with insights from our seasoned Web3 developers.
Coinbase: For Those Unaware of the Name
As one of the early-day crypto exchange platforms started in 2012, Coinbase is one of the top businesses in the centralized crypto financial ecosystem. With over 110 million verified users and a quarterly trade volume of over US$145 billion, the exchange has been performing big in the Web3 space.
The Coinbase exchange is renowned for its user-friendliness, catering to users from different backgrounds – novices, experienced crypto traders, entrepreneurs, and developers. It is also available in both web browser and mobile app versions, widening its reach to a big chunk of the digitally-savvy population. With such a profile the platform has, utilizing a Coinbase clone could only be game-changing for startups like yours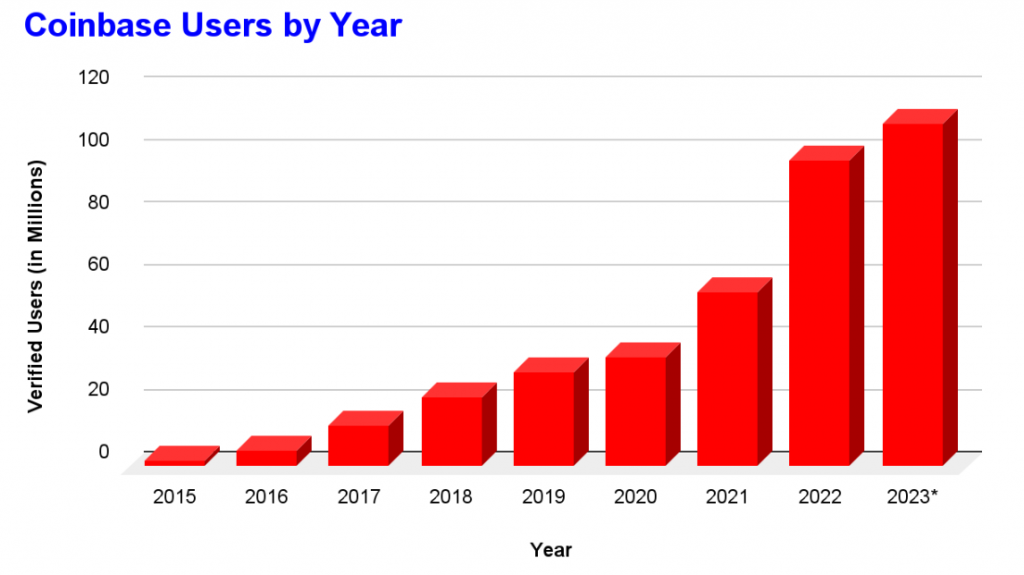 *Data for 2023 is the user count until March of the year.
Emphatic Features of Our Coinbase Clone
Trading Engine
Our Coinbase clone's trading engine comes with various features that allow users to execute all basic functions of your exchange, including:
Executing Transactions
Calculating Balances
Accessing Order Books through Calls
Matching Buying and Selling Transactions on the Book
User Interface
If you are going to make use of the coinbase software model for your business, the user interface is an element you need to focus about. Our clone app has all the necessary UI elements that ensure users have a smooth sail inside the platform. Some pioneering features found in our Coinbase clone exchange are listed below:
Order Creation
Transaction History with Filters
Indicators and Graphics
Comprehensive User Dashboard
Options for Fund Withdrawal and Deposit
User Entry Portals
The portals that appear when a new user enters the exchange application should be intuitive and easy to access. Making user onboarding experiences as smooth as possible should be a priority for a business in order to stay on top for a longer time. The elements given below play a vital role in registering new users to the Coinbase-like exchange:
Sign Up and Sign In should be made relatively simple, as centralized crypto exchanges only ask for fundamental information in order to stay within regulations alongside wallet connection.
User Creation can be a fine choice for a venture to ease user onboarding, as it allows users to create their exclusive accounts themselves.
User Verification has become an integral part of exchanges similar to Coinbase, as they need to comply with various regulatory requirements. Doing so can be simple by authenticating users' contact information.
Admin Panel
Administrators in our Coinbase clone solution have a pivotal role in running the platform successfully day in and day out. They typically have access to users' information, such as contact details and transaction history. Their primary roles include the following:
Levy Trading Charges
Add New Crypto Coins
Manage the Existing List of Cryptocurrencies
Fund Accounts In Case of Tickets
Provide Extensive Support to Users
In-built Wallet
Another scintillating feature of our Coinbase clone software is the in-built crypto wallet. Users can utilize it to hold and transact their crypto portfolios easily and securely. There are a few points to remember while designing your in-exchange wallet app that are presented below:
The Wallet's Nature should be decided beforehand. Everything, including whether it is hot or cold, whether it is compatible with browsers or mobile, and whether it supports multiple currencies, should be planned according to the business's nature.
Providing various options for users to Withdraw and Deposit their cryptocurrencies is a must. Credit/debit cards, bank transfers, and QR code-based transfers are some of the common ways users can transact funds through their wallets.
API Provisions
For any crypto exchange business to be successful, it is essential that it provides support for other Web3 businesses through API provisions. These can even be used inside the platform during upgrades. There are some factors one should consider while offering API support:
Private and Public APIs are used for building in-platform upgrades and third-party integration of the exchange venture's features, respectively.
Websockets provide responses from the Coinbase clone software based on the current trends without the need for external intervention.
The FIX (Financial Information eXchange) Protocol allows crypto exchanges to update themselves on the real-world prices of cryptocurrencies that tend to change often.
Analytic Tools
In a crypto exchange like Coinbase, analytic tools are important, as they provide much-needed information about cryptocurrency prices and market trends. They consist of extensive logs and charts that can be viewed in different time ranges and filters to help investors make informed decisions.
Storage Database
REDIS and SQL are the prominent database structures utilized for storing data in our Coinbase clone app. Both are different in terms of storage speeds and security level offered, and you should plan your storage medium accordingly.
Securing Your Coinbase-like Crypto Exchange
While a cryptocurrency exchange like Coinbase offers extensive security for users, it is necessary for us to know how it is possible for the platform to function as such. The platform itself is secured from the user end through 2FA (Two Factor Authentication), only allowing users to access the platform after entering an additional verification code after the initial login process.
In the payment section, our Coinbase clone works on a website over an HTTPS encrypted on SSL. All wallets and private keys users create from the in-built wallet app come with AES-256 encryption to enhance the security of funds held.
The platform also stores passwords created during the user creation phase as hashes that get stored using bcrypt plus. The platform also accepts only strong passwords that typically include alphanumeric characters in different cases, along with punctuation marks. Lastly, sensitive user data and credentials are stored in a decentralized storage solution for maximum security.
How Can CES Help You with Building Your Business from a Coinbase Clone?
At CES, we provide comprehensive solutions for Web3 enterprises of all sizes, and the Coinbase clone is one of our flagship products. We can launch your business to the public within a short time as the solution is already built and tested thoroughly. As a company focussing on fulfilling client needs while ensuring optimal functionality, we also shine by providing exceptional measures to elevate your crypto exchange platform's security.
If you are interested in beginning a crypto exchange in 2023, our Coinbase clone app can help you. What you need to do for starters is to fill out the inquiry form below to initiate a business conversation with one of our consultants.