NFTs, the Non-Fungible Tokens, have brought a storm in the crypto market, and it is true that this concept has entirely rejuvenated the blockchain and crypto industry to a brand-new phase. Earlier, the same was done by Bitcoin, smart contract platforms, and DeFi. Now it's time for NFTs to lead. It encompasses collectables such as artworks, photos, videos, in-game assets, virtual trading cards, music etc. Amidst these collectables, artworks are greatly known for NFTs, and presently, one more collectable is added to the list, which is equivalent to arts. And that's Memes. Yes, you read it right, memes! This blog is here to explain all about NFT for memes – Keep reading!
Definition Of Non-Fungible Tokens? 
NFTs are tokens that are greatly different from regular cryptocurrencies. They hold unique data in each NFTs, making it non-interchangeable. Considering Bitcoin or fiat-currencies, they could be interchanged for other currencies owing to their similar value. Say, one BTC is equivalent to another BTC. But the same is not the case in NFTs. The value in the tokens could not be replaced, replicated or even stolen. Also, they are indivisible in nature, meaning that the value could never be split or divided. The non-fungible tokens are utilised to represent both tangible and intangible assets such as arts, intellectual properties, virtual properties, financial instruments etc. It provides users ownership of assets and acts as proof of authenticity. 
It is its authenticity, integrity, originality, place of existence, and ability to be unique in nature makes it a splendid asset in the crypto industry. 
NFT For Memes
The trend for memes is huge in recent years, and it has been a stress buster for people in their relaxed time. The craze for memes in social media is colossal. What happens when this trend gets combined with the NFT trend? It would be massive, right? The same has happened. The well-famed "Disaster Girl" meme, taken nearly 16 years ago, is now sold as an NFT for roughly $500,000, and with this, NFT for memes have laid a path into the crypto globe. It opens the gate for the meme creators to reap a handsome profit worldwide. Similar to the artists, they could be eligible for gaining royalties. 
Previously, the digital ownership of the meme was literally out of the realm of possibility, and the ascent of blockchain technology has boosted the interest in holding the compositions of internet history. This is where NFTs come into the picture. It stands as a digital signature and becomes undeniable proof that it holds value. 
NFT For Memes Marketplace Development
Memes have become the simplest form of representing a situation, and undoubtedly, it has fascinated people a lot. Have you ever thought of monetising a meme? Transforming it to NFTs has proven that it would gain more profits. As a crypto-preneur, you have to make use of this situation to create a marketplace for NFT memes. This marketplace makes the users purchase, sell, trade, and hold NFTs as memes. It has now become the gold rush, and some of the classical viral images are being sold as NFTs for thousands of dollars. This is a pure result of meme creators getting in action when they saw NFTs getting mainstream with artists, sports leagues, musicians, and others. 
It is one of the instant revenue-generation marketplaces through myriads of popular memes. By all odds, this novel marketplace would outsmart other regular marketplaces in the near future.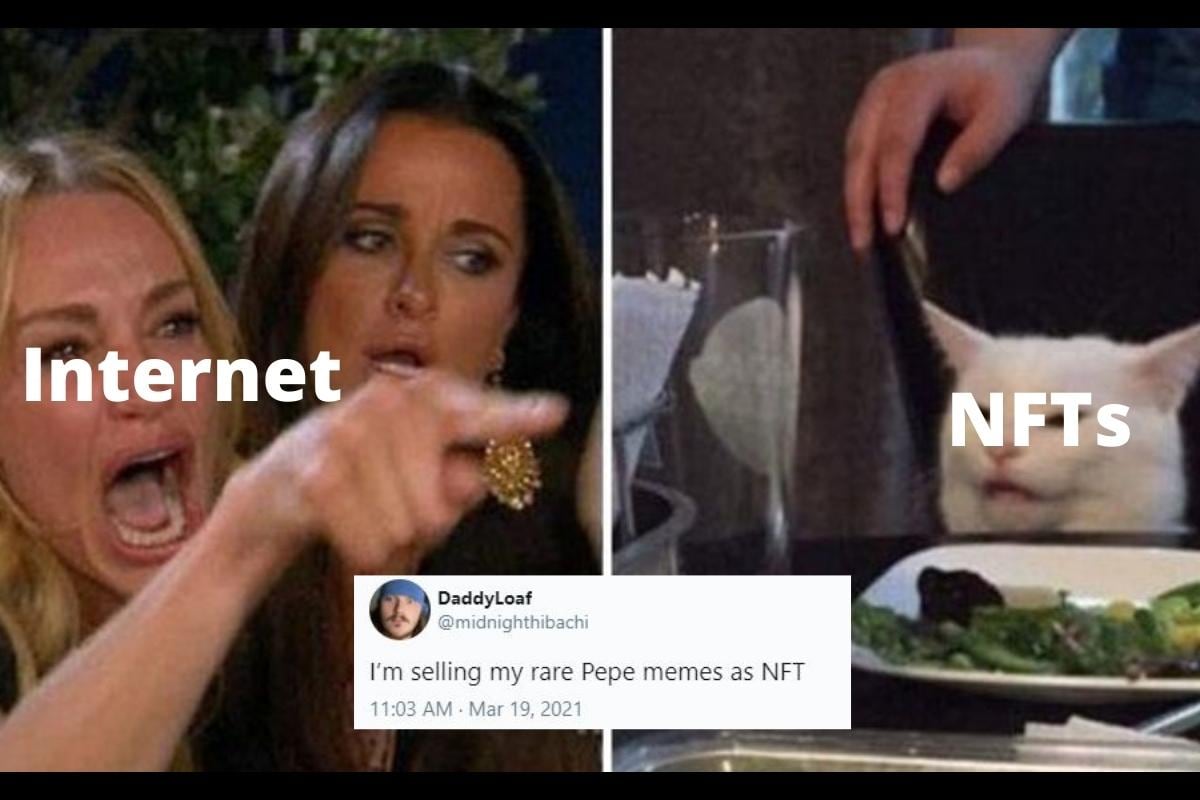 Business Benefits Of Owning NFT Memes Marketplace
Brings huge traffic to the marketplace:

As a renowned meme creator, they have a wide range of fans and followers. This would make the audiences visit the marketplace frequently.

Recognise meme creators: This marketplace enables you to recognise meme creators as they earn royalities, just similar to artists.
Provides global access: As a brand-new marketplace, it would facilitate instant access all across the globe.
Single time investment: A one-time investment for your marketplace would make you reap handsome profits life-long.
Multiple revenue streams: Similar to a regular NFT marketplace, it creates multiple revenue streams.
User Benefits Of NFT Memes Marketplace
Get hold of world-famous memes:

Users have an assorted range of memes that would have been converted into NFTs. They gain ownership of such world-class memes. 

Make memes valuable:

Making the apt memes for a perfect situation, such as educating, creating awareness etc. would serve the purpose, gain popularity, and become a revenue stream. 

Seamless experience:

Enjoy the seamless experience of trading NFTs, where users could purchase, sell, and hold. 

Access to a wide range of memes:

They would get access to an assorted range of memes – both classical and modern memes. 

Build a community:

Through the marketplace, the user paves a path to share the ideas using a meme, thereby forming an ideal community.  
Boost Your Crypto Business With CES
Being a trailblazer in the industry of blockchain and cryptocurrency, we meticulously watch for the upcoming trend and leading-edge technologies. One such trend is the NFT memes marketplace. We lend our fullest support to make you stand unique in the crowd. We transfer our knowledge through quality services and make you stand strong in the market as the development in a holistic way. The other reasons that would make us the best-suit includes,
Adept professionals

Rich experience

Delighted customers

Leading-edge solutions

Transparent nature